EDnet Guest Web Space

EDnet space is reserved for for sites that display information regarding curriculum, education, and cultural topics.

To get an EDnet site you must be:
a member of EDnet, or
an institution affiliated with the Nova Scotia educational system (schools, boards, related organizations, etc)
If you do not meet these requirements, but require web space that is free of charge and does not install ads or popups as a condition of use, we suggest searching following phrases (linked for convenience) "free web space" "no ads" on Google.com.

Guest pages should be in good taste, and reflect positively on the Guest as a member of Nova Scotia's education community.

Halifax Regional School Board Teachers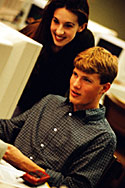 Web space is supplied for teachers and classrooms via a partnership between the HRSB and the NS Department of Education / EDnet.
For information on this program, or to get your Web space:

The Webmaster cannot provide support for:
web development software problems/questions
html coding problems/questions
learning how to FTP files

Questions about Web development and tutorials should be directed to technical support staff at the school or board level, or to instructors of courses/in-services related to Web development.

Who makes the decision on who can get a site?

Final decisions on the allocation of Web space (other than that for schools) do not rest with the Webmaster, but with appropriate persons within the Department of Education.

What will we get with the site?
| | |
| --- | --- |
| Server Space: | Up to 5 megabytes disc space |
| Web Environment: | Unix server, supporting Microsoft Frontpage Server Extensions |
| Upload access: | Individual FTP access, allowing the updating of sites at the user's convenience |
| Run Scripts: | Users may run Perl scripts from within their own directories |
| E-mail address: | yoursite@ednet.ns.ca |
| Site URL: | yoursite.ednet.ns.ca |
Apply for a site on EDnet
Change an existing Web account on EDnet